Market research
Townhomes in the Pacific Beach neighborhood are growing more popular. They appeal to such a diverse group of people, like millennials looking for an upgrade from a studio apartment without the responsibilities of a single-family home or experienced homeowners looking to downsize.
Living in a townhome offers significant benefits for all. Conveniently located, easy to maintain, and often less pricey than single-family residences, townhomes in Pacific Beach are a coveted option for many first-time homebuyers and seasoned market veterans. When purchasing a home in this beautiful neighborhood of San Diego, it's important to keep the following recommendations in mind.
Townhomes range in square-footage, price, and appearance. While Pacific Beach is already a densely populated community, the area is beginning an expansion process to build more luxury townhomes. Before you buy, make sure you do your market research and speak with a trusted real estate agent who has a pulse on upcoming properties. Homes in Pacific Beach don't last long, regardless of the market, and working with an expert agent will give you the best opportunity to secure a townhome in Pacific Beach.
The basics
Complete the home-buying basics before scouring the internet for the perfect Pacific Beach Real Estate. Take a good look at your finances — if you're a first-time homebuyer, do you have enough funds tucked away for a down payment? What's your income-to-debt ratio? Purchasing a home is a major commitment, so it's important to evaluate your personal situation first to ensure you're ready to take the leap and become a homeowner. If you currently own a home and are looking to downsize, analyze the equity in your current property and discuss the seller's market with an agent.
Once you discuss your options with your real estate agent, understand there are differences between townhomes and condominiums. Townhomes are multi-level structures separated by units on either side. Each unit has its own amenities, with some communities offering updated kitchens, bathrooms, and rooftop patio spaces.
Townhomes include shared ownership of some aspects of the entire property, like rooftop patios, small yards, or fitness centers. Have a good idea of your comfort level when sharing walls with neighbors, which is one of the biggest differences between living in a community versus a single-family home.
Most townhomes in the area have additional fees to accommodate luxury amenities, like homeowners' association fees, gym fees, additional costs for inspections or titles, and more. This is where working with an expert real estate agent comes into play. Purchasing a townhome sometimes includes these "hidden fees," so it's important to plan for additional expenses.
Do your research on the townhome you are looking to purchase, and read up on the community's rules and regulations for homeownership. Most townhomes follow strict guidelines, so it's advised to do your research on the HOA rules and guidelines before placing an offer. If you're looking to renovate your townhouse, make sure HOA rules will allow you to do so as well.
Amenities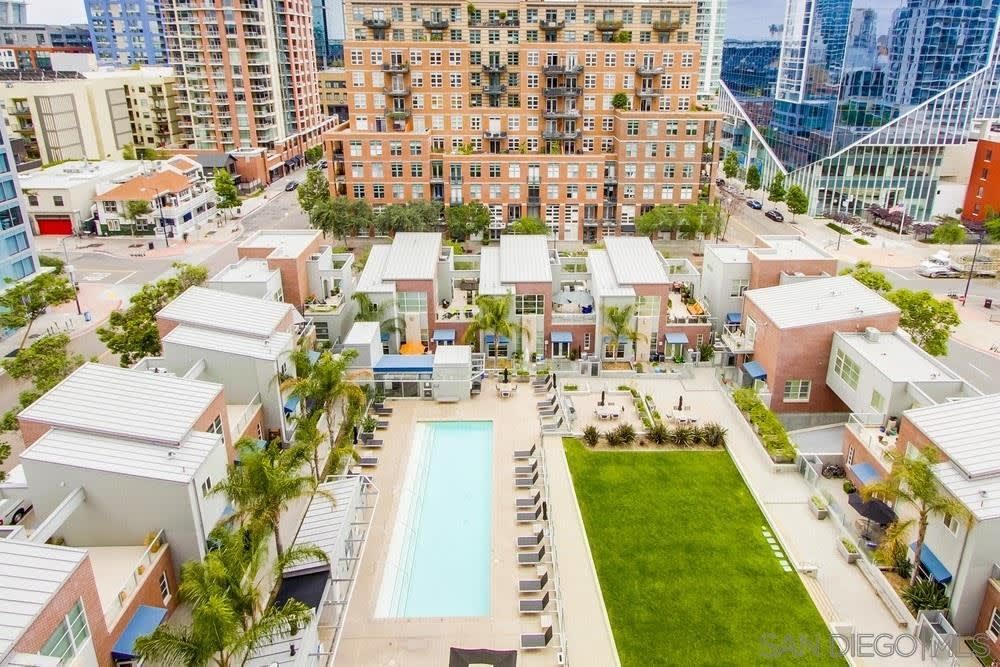 Townhomes typically offer upscale amenities that aren't included when purchasing a traditional home. While there are fees involved, homeowner's associations sometimes take care of exterior upgrades, issues, and repairs within the unit, and often include water/sewer/trash expenses. These extra amenities are appealing for those seeking to own a home without worrying about the upkeep — an ideal situation for those on the go.
Unlike condominiums and apartments, townhomes offer private green spaces and patios, private entrances, and ample square footage. A few other amenities that could be included in the purchase of a townhome are:

Onsite fitness centers

Community spaces, like patios, conference rooms, etc.

Onsite dog parks or designated outdoor spaces

Community events
Of course, amenities come with an additional cost, but for some, it's an ideal situation. A major time-saver, additional amenities are a nice perk when making a townhome purchase. Also, newly-constructed townhomes are becoming more energy-efficient, which can save a considerable amount of money each month on electric bills compared to single-family residences.
The neighborhood
Where would you like to live in Pacific Beach? Is it important to live along the water, or would you rather live closer to restaurants and shops? Do you prefer a bustling district or a quiet and reserved family-friendly neighborhood? Pacific Beach has it all — explore the neighborhoods, and find which option works best for you!

North Beach - an upscale neighborhood with homes perfectly situated for waterfront and mountain views. This area borders the La Jolla neighborhood.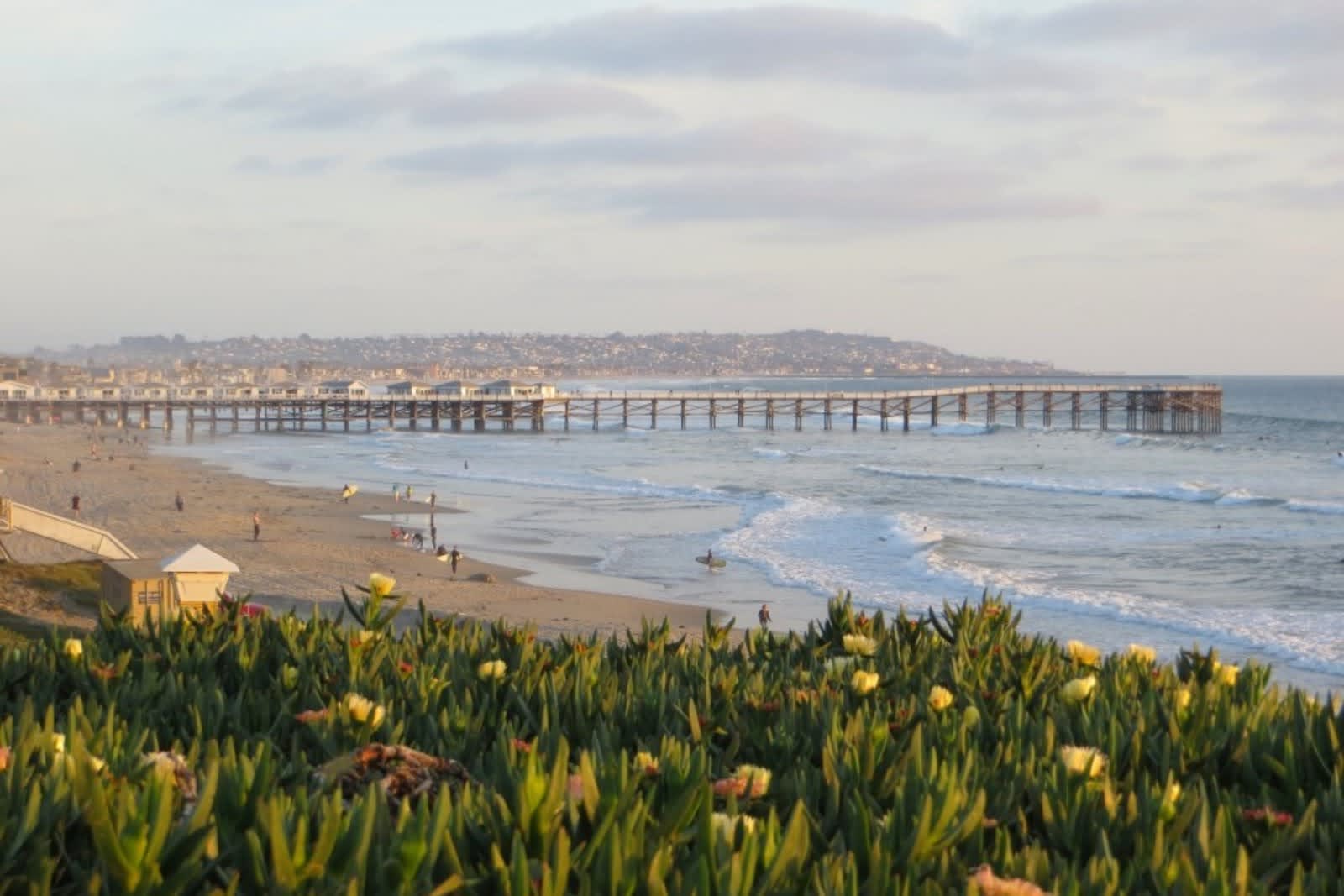 North Beach, Credit: California Beaches
East Pacific Beach - an affordable section of Pacific Beach with homes located close to the water. This section offers more privacy and outdoor space between homes.
Mission Beach - a densely populated location, but full of restaurants, shops, and the longest boardwalk in San Diego.
Crown Point - homes in this area have better access to the bay with more condo/townhome complexes in a small-town neighborhood.
Why Pacific Beach?
Pacific Beach is an idyllic community in San Diego. The vibrant beach town is loaded with youthful spirit along white-sand beaches and trendy restaurants and bars. It's a popular destination for younger generations to live and with its growing population, many are choosing to make this hip and exciting neighborhood home.

Pacific Beach, or "PB" to the locals, offers gorgeous weather year-round and stunning sunsets each night. With more and more luxury townhomes being built in the area, PB welcomes even more residents to enjoy the neighborhood's outstanding paradise appeal. If you're searching for a townhome in PB, speak with your agent about the community and explore online forums or groups that cater to the PB neighbors for information about the overall feel of the community.
Helpful questions
Before buying a townhome in Pacific Beach, discuss the following questions with your agent and the townhome's community:
What are the HOA fees and rules?

What does my HOA pay for?

Can I look at the past year's HOA meeting minutes?

Are there any major repairs coming up?

Are there pet restrictions?

Can I rent out my unit?

What kind of community events are held?

What is the community like? Do owners socialize or keep to themselves?

What kind of noise level can I expect?
Don't forget that the key to purchasing your dream home is working with an experienced real estate agent who is knowledgeable about the market and understands the unique stipulations of purchasing a townhome. Contact Rachael Kaiser of the dynamic Kaiser Team today to find your next luxury property in Pacific Beach! With an extensive network and an in-depth knowledge of San Diego communities, Rachael Kaiser aims to connect people, property, and possibility. Contact her today for an exceptional home-buying experience!